Days before I picked up Die Hexe her Krauser bags (along with her side-covers) were stolen. While there is a special place in hell for folks who do such things to old bikes, in the end I think it turned out for the best. Looking around at the price of replacement Krauser bags was quite an eye-opening experience. The 300$ asking price for good-excellent condition bags for was more than I was willing to pay. In part becuase of the price, but in part because of the design. The flowing curves of the /5 bikes seemed at odds with the squared off, typewriter-esque carrier cases of the Krasuers. Looking around a bit more, however, I found a few examples of early 70's BMW sporting Wixom's and that was the end of that.
If anyone is interested in a fine set of Karuser brackets, just let me know. I have an extra set now simply collecting dust.
Wixom Bros Ranger Saddlebags - before restoration
As luck would have it, I found a prety beat up (but structurally in good condition) pair of Wixom Bros Ranger Saddlebags on Craigslist for $50. There were originally gel-coat? red and later painted black. The locks were in bad shape (but functional) and no lights or reflectors, but for the price I couldn't pass them up.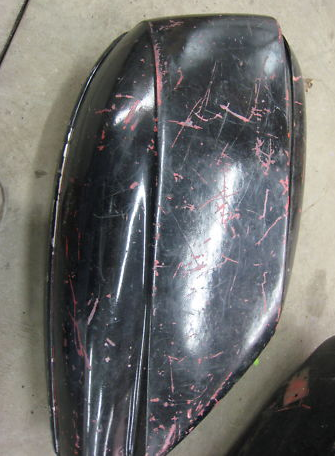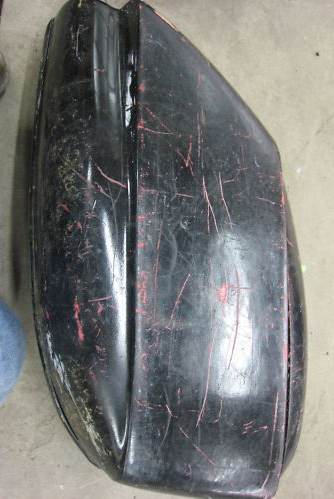 Mounting brackets
The mounting bracketes were a bit more difficult to find, but in the end I found a set that worked for SWB /5. Here they are sanded and repainted.
Restoration
@@ one of these days write this up @@
Remove pop-riveted aluminum and re-polished to chrome like finish
Remove locks and rebuild
Sand (and sand, and sand, and sand), primer, paint (and sand some more)
Final product
Here are a few shots of the wixoms mounted after resotration.
And a couple more as things stand currently.
Additional modifications - Tool Tubes
I love these Wixom bags on my /5. One (small) gripe I have, however, is the extra gap that exists between the mounting bracket and the bike. I've always thought that gap was prime for additional storage compartments. After thinking about this a bit more, I came up with the idea of fitting a pair of (inexpensive) tool tubes on the inside of the mounting brackets. The spacing is (almost) too tight, but by positioning these tubes at the right angle, a fairly effective fit can be achieved.
And the fact they can hold a couple extra bottles of wine doesn't hurt either ;)
Special thanks
To the guy who sold me these Wixoms for 50$.
Scott A for his assistance in helping me fit these bags
Ready Reference
Background on Wixom
NOTE: the following is snipped from http://capttop.blogspot.com/ as the site seems to be sketchy
The following is from Motorcycle Years from "Motorcycle Design" by Craig Vetter. This is from the manuscript of a new book on the History of Motorcycle Design after 1939 by Craig Vetter, motorcycle designer and now historian and writer.

Preface to Wixom, May 24 1967: The "Summer of Love". I rode my 350
Yamaha from Illinois to LA to interview people who had already done
the kinds of things that I wanted to do. I scheduled visits with Floyd
Clymer, Bruce Meyers, Bill Van Tech and Dean Wixom to ask them what
advice they could give me so I would not make the same mistakes they
made. Well, I wanted take a trip too. All right, I also wanted to
check out Haight-Ashbury in San Francisco..

Floyd Clymer, founder and owner of Cycle Magazine, was ornery and
uncooperative. He wouldn't even let me ride his Munch Mammoth. Bruce
Meyers, inventor of the Meyers Manx dunebuggy, advised me to spend all
my efforts on molds: "Get them as perfect as you can". ( Bruce was
forever haunted by a crooked rear fender on his Manx ) Bill Van Tech
must have made a some kind of mistake because by the time I got to LA,
he was employed by Grant Industries and "unavailable". Dean Wixom,
fairing designer, was a real gentleman, taking me under his wing, even
inviting me to stay at his home.  We had taken two very different
approaches to fairing design. The Wixom fairing mounted to the
handlebars while the Vetter fairing mounted to the frame. Dean could
see that I too had designed for the American riding style. "Really",
he said, "the only advice I can give you is that very few people are
going to pay $100 for a fairing".

I couldn't do that. It cost me too much to make! I was counting on the
fact that there would be a place for my design too.

We became friends and competitors in the fairing business. But, it
wasn't until researching for this book that I learned just how far his
influence extended through motorcycling.

I am honored to tell of his contributions to motorcycle design.

America's first fairing designer, Dean Wixom May 24, 2005

Dean Wixom was an industrial arts student in Long Beach in 1960.  He
rode a BMW with an English Peel fairing, which he recognized as not
being right for the American riding style. Dean had learned fiberglass
at a summer job in high school. You know what came next.  .  By 1964,
Dean Wixom was getting America warmed up to fairings.  Dean Wixom was
a motorcyclist. He understood materials and he had a good sense of
design. And he was industrious. He had all the ingredients for
success.  Dean designed and made what he wanted on his motorcycle. In
so doing, he made what many American riders wanted too. Brother, Stan
left his job at IBM to invest in the venture. Wixom Brothers became
the biggest fairing manufacturer in America.

There were challengers Avon and Butler, the major fairing companies in
England, now set up distributors in the US to sell Café Fairings -
which were street versions of streamlining they saw on the tracks.

They were called cafe fairings because the English Rockers of the era
used them as they raced from café to café. Americans thought they
looked cool, but we did not ride from café to café. We rode from coast
to coast. The Wixom Brothers understood that. They made real touring
fairings for the way Americans rode: The Wixom Brothers struck gold in
1966. When the Wixoms put their fairing on the Harley Big Twin, they
hit the mother lode of the fairing business.

The Wixom /Harley combination became one of the All time Classic
Designs of motorcycling. Forty years later, Dean's design lives on in
the Harley Davidson "Batwing":

1967: The Summer of Love and Airflow

Dean Wixom's motorcycle career is entwined with that of famous engine
designer, Jerry Branch. When Dean was beginning, Jerry was working as
a mechanic at a local Harley shop, learning how engines breathed – or
"flowed".  Legendary Harley Racing Manager, Dick O'Brien had come to
rely upon Jerry Branch. In 1967 Jerry Branch set up shop flowing
engines above the Wixom Brothers' fairing factory on Signal Hill in
Long Beach, CA.

In 1967, Dick O'Brien told Jerry that Harley wanted to win Daytona in
1968.  Think about it: The OHV Triumph had won in 1967. In 1968 the
Yamaha 350 would be here, ridden by the best Americans and
international riders from Europe. How could they possibly make their
old, 1953 flat-head design competitive?

Jerry Branch knew what to do with the engine and he knew just where go
for the right fairing design.

It was that summer that I met Dean and Jerry on Signal Hill. Dean
hinted about something exciting they were working on but could not
talk about. Thirty eight years later they talked.

Dick O'Brien had told them he was prepared to do whatever it took to
win Daytona. He began by buying a block of time at the Cal Tech wind
tunnel. The AMA had not allowed streamlining on Class C road racing
machines until a few years earlier in1962, so nobody in the US really
knew how to tell a good race fairing from a bad one. Dean and Jerry
were about to find out.

The cuurent H-D racer had xxx hp would go 135, not enough to win
Daytona any more. Dean tells of the hours they spent, adding clay here
and there - finally giving up and building a new fairing from scratch.
Until they spent their time in the wind tunnel, everyone had assumed
that a skinny fairing was better. Everyone was wrong. The fairing and
seat, they discovered, needed to be as wide as the man on the bike to
help the air flow by easily. One of the surprise sources of air drag,
incidentally, turned out to be the "whetted area" of the air entering
the engine opening. When they taped over the opening, the drag went
down measurably. Each time the air slams into something – the forks,
the frame tubes, the engine cases, the fins - it causes drag.

Besides shaping the fairing and seat, Dean sculpted the beautiful new
6 gallon fuel tank while Jerry focused on getting the fuel/ air
mixture into the engine and getting it burned. Jerry upped horsepower
to xxx. Dean did the "big air" while Jerry did the "little air". The
top speed rose to over 150 mph.

As Don Emde, fellow road racer, says in his book: The Daytona 200,
"When they arrived in Daytona for the 1968 races, the team bikes did
not even remotely resemble the machines of the year before. They were
all painted in identical Harley orange, black and white colors"

Harley did indeed win Daytona in 1968, and again 1969.  Cal Rayborn
shocked the world winning the 1968 Daytona on that old Flathead KR TT.

Vetter Design Truth #10: "There is no more new frontier… We will have
to make it here" … is bunk.  (Eagles, Last Resort")

Designers get to work in new frontiers.

Dean and Jerry agree that he FIM streamlining rules of 1957 which
require the rider and wheels to be exposed, make it virtually
impossible to really streamline a racing motorcycle today. The biggest
area of improvement, they found, was to help the air flow smoothly
over the rider's back. This was so important, Dean says, that he flew
to Daytona a few days early to personally hand-cut each windshield to
fit each individual rider in the Harley team!

Wixom had designed the best road race stream;ining
possible. Period. Any deviation from this design would be contrived
just to be different. It seems unlikely that it could be more
efficient.

The story is not over Harley had found One-Stop Shopping on Signal
Hill. After their 1968 success, Dick O'Brien brought over the first XR
750 chassis for the Jerry and Dean to finish up. Again, Dean designed
and built the tank and seat while Branch made the heads flow.

1970 Harley XR 750 (picture)

Wixom and Branch had produced another classic, being produced until
xxx.  Maybe the most rewarding part of this venture is, according to
Dean, that Willie G. Davidson, in charge of Harley's design, simply
rubber-stamped it.

The last fairing that Dean designed before selling Wixom Brothers ended up as
the ubiquitous CHP fairing made famous on the TV show, Chips.

The brothers sold their fairing company in 1977 and went on to design another
classic, the Nor'sea 27 sailboat.

This fibreglass sailboat has been in production longer than any boat in history.

Dean now enjoys a third career inlaying gemstones, in a process called
"Intarsia". Only a handful of artists produce intarsia in the US.

In 2007 Dean won the coveted "Gemmy Award" this country's highest
award for the Gemcutting Arts. .

You may E-mail encouragement to him at: ndw1928@yahoo.com

Stan Wixom died in 2004.

Jerry Branch is the world's youngest 80 year old. (See Jerry Branch )

Dean Wixom was nominated to the Motorcycle Hall of Fame in 2007