My Liftrack Motorcycle Lift
The more I work on 'die hexe' the more I realize the value of getting her up on a lift. After failing to utilize effectively a dunwell 2000, I recently picked up a used Liftrack motorcycle lift. I've been saving pennies for a table for a while but high cost and large footprint have been a concern. Factoring all of these variables in, in the end, the Liftrack seemed like a very good fit for me. It's relatively small, easy to load, can be tilted upright to stored in a garage and can be found dirt cheap compared to other brands in the used market (craigslist) if you're patient enough.
It's a fairly simple and elegant design with a focus more on cleaning and simple maintenance (i'm guessing). Unfortunately, there seems to be very little detail currently available on the web regarding this lift. The following attempts to fill some of this gap.
History
Liftrack was originally manufactured by cal-products from approx 2001 to 2009. I'm unclear as to why they went out of business, but the liftrack.com site has been shut down for quite some time. The following is from wayback machine with the most recent archive time stamp in 2008.
Liftrack motorcycle lifts are the finest tools available for servicing and cleaning motorcycles. The patented (U.S. patent #6338470) design permits safe one-person operation. No adapters of any kind are necessary with Liftrack; all production motorcycles can easily be elevated. Liftrack will safely elevate up to 1000 lbs. In addition, the detachable track section permits simple tire, wheel, and suspension service without requiring a secondary jack. Access to your elevated motorcycle is fantastic; Liftrack is narrower than your motorcycle! There is equal access to both sides of the elevated motorcycle with Liftrack. Oil and transmission fluid changes are simple: drain holes in the main track permit clean and easy access as well as keeping the tires isolated from the oil catch container.

Liftrack is manufactured in America and is ready for FedEx shipment to your door (no truck freight!) for only $749 plus $30 shipping (within 48 continental states).

Features / Benefits

"NO RAMP" design; the Liftrack lowers flat to the floor for easy loading and unloading. Negotiating a slippery or narrow ramp Motorcycle is held vertically for equal access to either side. No more hands and knees for cleaning the lower areas of the motor!

Wheels need service or cleaning? Using the provided lift blocks, suspend front or rear wheel for simple access; the wheel can be rotated or removed!

Liftrack's compact and lightweight design permits simple storage when not in use. It can be moved by a person, not a forklift!

Motorcycles can Beck loaded on forward or backward, depending on which tire and wheel requires service. With no ramp to worry about, it is easy!

Oil and other fluid changes are simplified on the Liftrack: drain holes for your funnel are provided in the track! Simply place your catch container in the base under the funnel.
Pictures
A random set of pictures of the liftrack....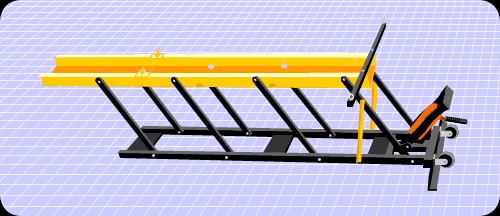 Modifications
While I like the simplicity of the liftrack design and minimal footprint, the addition of a Titan "The One Chock" was a significant improvement. The Chock was narrow enough to fit in the liftrack runner and slide under the tie-down brace. The lack of tilting or moving parts when supporting the wheel reflects a lower cost point (I found mine for 80$ shipped) and one less thing to go wrong. The front brace can be set to fit a specific diameter wheel and this chock perfect complements the liftrack. With this addition, the loading and lifiting of the bike was much easier while offering greater stability and safety. Whats not to like? ;)
For center support (for example, when removing the front wheel) I've made a set of interconnecting maple blocks that slide under the bike and support the bike at various frame mounting points.
I'd eventually like a better (perhaps more general) solution, but given the particular design of my bike and the inability to use any sort of center lift without damaging the oil pan or exhaust, this seems to be more than satisfactory at the moment.