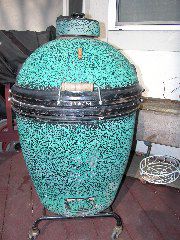 I recently inherited from my favorite great aunt a 1960's Kamado
No. 5 built by Richard Johnson and made in one of the various home
factories he set up in Japan. I've seen these in various traditional japanese restaurants on my previous trips to Japan, but never thought to look for one in the states. This Kamado is in very good shape for
the age and should enjoy many more years of cooking. The history of the Kamado is an
interesting one and I look forward to many years of cooking with this piece of functional
art. this kamado is old school and look nothing like the newer ones. But its a simple, elegant design and I can keep a temperature of 200 deg for 48hrs which makes for some interesting options in slow-cooking / smoking cuisine. The wood fired pizza's alone are absolutely spectacular on this baby.
Skip back to main navigation